8 Benefits of Postal Totes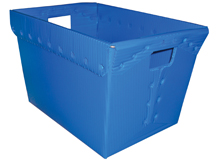 Durable, returnable plastic postal totes and mail bins made by Flexcon are the answer for a full range of material handling needs -in addition to mail room use.
While they improve organization and efficiency of mail centers, they also help streamline organization of materials and products, from assembly operations to warehousing (including use in automated storage and retrieval systems) to shipping and handling and transport.
You can find a complete range of postal container solutions – mail bins, postal totes, flat trays, flat tubs and postal bins – by visiting Flexcon's Postal Totes website. We offer them in a wide range of sizes, designs and colors to meet your complete needs for corrugated plastic containers.
Our USA-made returnable postal containers are available in a variety of colors – semi-clear, red, blue, green, black, white and yellow. This enables you to develop a color-coded system of organizing material handling and distribution. These postal containers can be used for collecting, sorting, organizing, warehousing and transporting materials and products.
Other key features and benefits of postal bins and mail trays include:
Made of tough, lightweight plastic for easy handling and long, dependable life. Providing extra strength for heavy loads, some bins feature welded seams and steel rod reinforcements.
Cut-out handles make carrying these corrugated plastic boxes and corrugated totes easy and ergonomic for your workforce
Plastic corrugated containers resist chemicals, water and impact, providing optimal protection of your materials and products
Smooth interior and exterior surfaces of the reusable plastic containers make them easy to clean
Made of plastic, they last for the long haul, making it easy on your budget. And these recyclable plastic containers are easy on the earth. Because they're recyclable, these reusable containers don't take up landfill space when they do come to the end of their lifecycle.
Similar sized corrugated plastic totes nest together. This saves you valuable space in your facility when they're not in use.
Made to the same standards as USPS postal containers
Various available sizes of mail bins, postal totes, flat trays, flat tubs, postal bins and postal containers fit most standard carts for transport within your facility
For more than 50 years, Flexcon has been the trusted supplier of durable, reusable and returnable plastic containers for a wide range of industries. Today we serve more than 75 percent of Fortune 500 companies. For more information about our postal containers and other corrugated plastic boxes and plastic corrugated containers and bins, contact a Flexcon sales representative today.