ASRS Systems and Carousels – Corrugated Plastic Containers
December
29
2016
Posted by Flex Container
General
ASRS and carousels are designed for efficient use of space and increased production in moving large amounts of products in and out. The economical use of space can be maximized even more by using plastic containers and totes that are custom build for ASRS systems.
Plastic storage bins made by Flexcon Container, for instance, helped a manufacturer increase storage capacity in its automated storage and retrieval units by more than 19 percent, according to an article in Modern Materials Handling.
Flexcon corrugated plastic bins, totes and containers are designed to optimize use of available cube in carousel systems, reducing wasted space, common with other options, by 15 to 20 percent.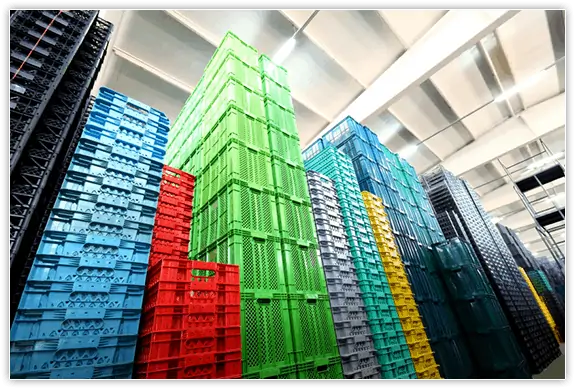 Size and fit aren't the only things to consider when picking containers for ASRS systems and carousels. Other items to consider are strength, impact resistance, and deflection. For these and other reasons, corrugated plastic containers are excellent candidates for ASRS systems and carousels, both vertical and horizontal.
Why choose corrugated plastic containers for ASRS systems and carousels?
Their benefits include:
Because they are more durable than molded plastic containers, they maximize space usage while minimizing damage to products during storage and handling. They hold up to the constant handling by robotic ASRS equipment and corrugated plastic containers resist tears and punctures.
Corrugated totes for ASRS systems lower costs as they last longer.
For custom sized and designed containers required for specialized applications, corrugated plastic containers offer the advantage of requiring less development time than molded plastic containers–since they don't require creation of a mold. Likewise, corrugated plastic containers require less production time than molded plastic containers. Production time for molded plastic can be nearly five times longer.
They're lightweight, contributing to efficiency of ASRS systems and help maximize pick rates.
In addition, the ASRS corrugated plastic containers made by Flexcon Container feature:
Pitched drain holes to prevent collapse of a storage and retrieval system in the event a sprinkler is set off.
Ergonomic design for more efficient operation of carousel systems.
Design that prevents parts migration.
Capability of being partitioned to meet changing parts storage needs.
To learn more about the benefits of corrugated plastic containers with your ASRS or carousel systems, call Flexcon today at 908-871-7000. Our container experts are ready to help you choose the best solutions for ASRS and carousel systems.